Greetings! I am currently working on a tool-assisted speedrun (TAS) of the Lynx port of Blockout and I wanted to connect with this community to get some feedback. For anyone who is unfamiliar with what a TAS is, feel free to have a look at
http://TASVideos.org
which has several examples showing how you can remove the limitations of human skill and reflexes and instead push a game to the limits of its programming. I've been creating tool-assisted speedruns for a few years now and recently I've been the organizer for the
TASBot block
at the biannual
Games Done Quick
charity marathons but I took a break to try my hand at abusing Blockout, and the Lynx port seemed like a good candidate.
For starters, here's a screenshot of something I was able to pull off: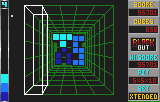 As you can see, I have a fairly high degree of control as I was able to crudely spell out TAS with different level depths for each letter. Here's another example, showing before and after clearing and flushing a 5x5x6 board: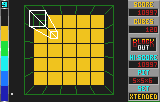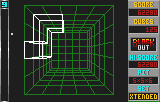 As you can see, this scores a substantial number of points, but I abandoned points as a goal choice because it took me 25 seconds (specifically, 1,540 frames) to clear 5 lines and simultaneously flush the playfield that way. Unfortunately, by my calculations it would take the better part of an hour to max out the score counter and I suspect it would be get boring and repetitive quickly.
As a better goal choice, I'm currently working through levels 0 to 9 (the highest level on the Lynx port due to the screen resolution), with the intent of completing all 10 levels as quickly as possible with a small amount of time lost for entertainment value. It seems like there is very little that can be done to reduce the drop wait time so it seems like playing Out Of Control mode and forcing all pieces to drop as 5-cube shapes (to run up the cubes count as fast as possible) is the best tactic but please let me know if I've missed something obvious. Once the higher levels are reached it takes less time to simply let the pieces fall but that doesn't help much in the early levels.
I'd love to know what people think. I'll eventually make a video encode but in the meantime if anyone is brave enough to try out the
BizHawk
emulator I've posted a
BizHawk .bk2 movie file
as a work-in-progress snapshot. Once I've completed the speedrun and it's encoded properly there will be a clear disclaimer indicating it was produced using tool-assisted techniques so as to ensure no one ever assumes this was done with human skill alone. Thanks in advance!